UXDI | Case Study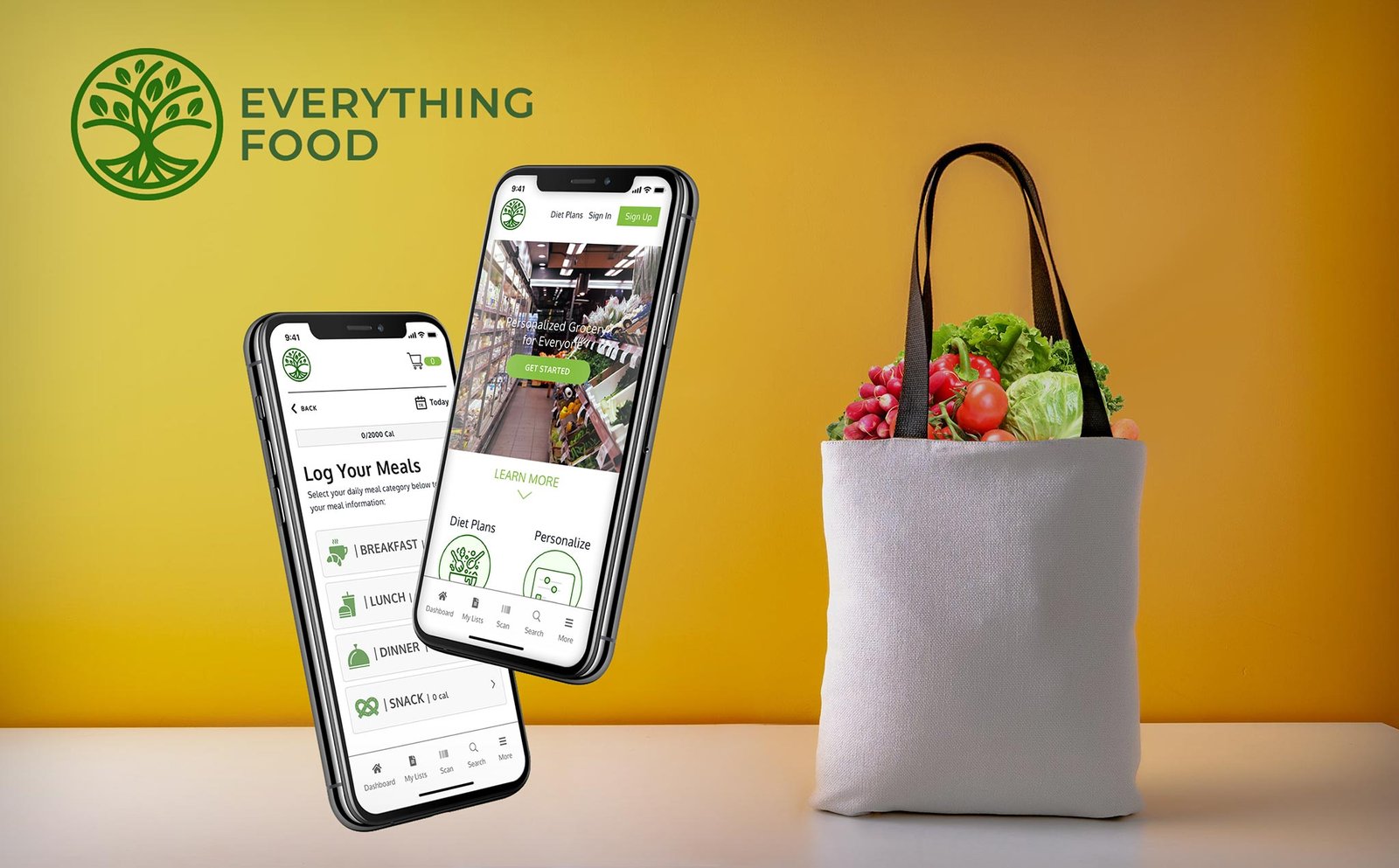 Project Overview
As we set down to meet with the founders of the company, we felt inspired to hear their personal story of what motivated them to start their company. Seeing how genuine their passion was for sharing their knowledge through their nutrition journey made us extremely proud and motivated to help spread their message.

Our goal was to help research and design a new platform that would help Everything Food to roll out nutrition plans that would work best with current and new customers, determine and predict the most important next step for customers to take, and to solidify our findings into most comprehensive research.
---
Client | Everything Food (Student Project)

Role | UX Designer

Platform | Mobile First/Web

Duration | 2 - Weeks Sprint (Agile)

Tools | Figma, Sketch, InVision, Miro & Photoshop.

Team | Serge Pikhotskiy, Blair Morgan Reeves, Kyle Houston

---
Exploring The Competition

We've looked at Noom, Beachbody, Yummly and Weight Watchers - and were able to analyze similar patterns across multiple platforms and document the areas of interest. We looked at some of the industry standard features that would increase familiarity of the customer with the product and the interface, we also worked on conceptualizing some of the unique features that could benefit Everything Food and help the company stand out in the competitive marketplace.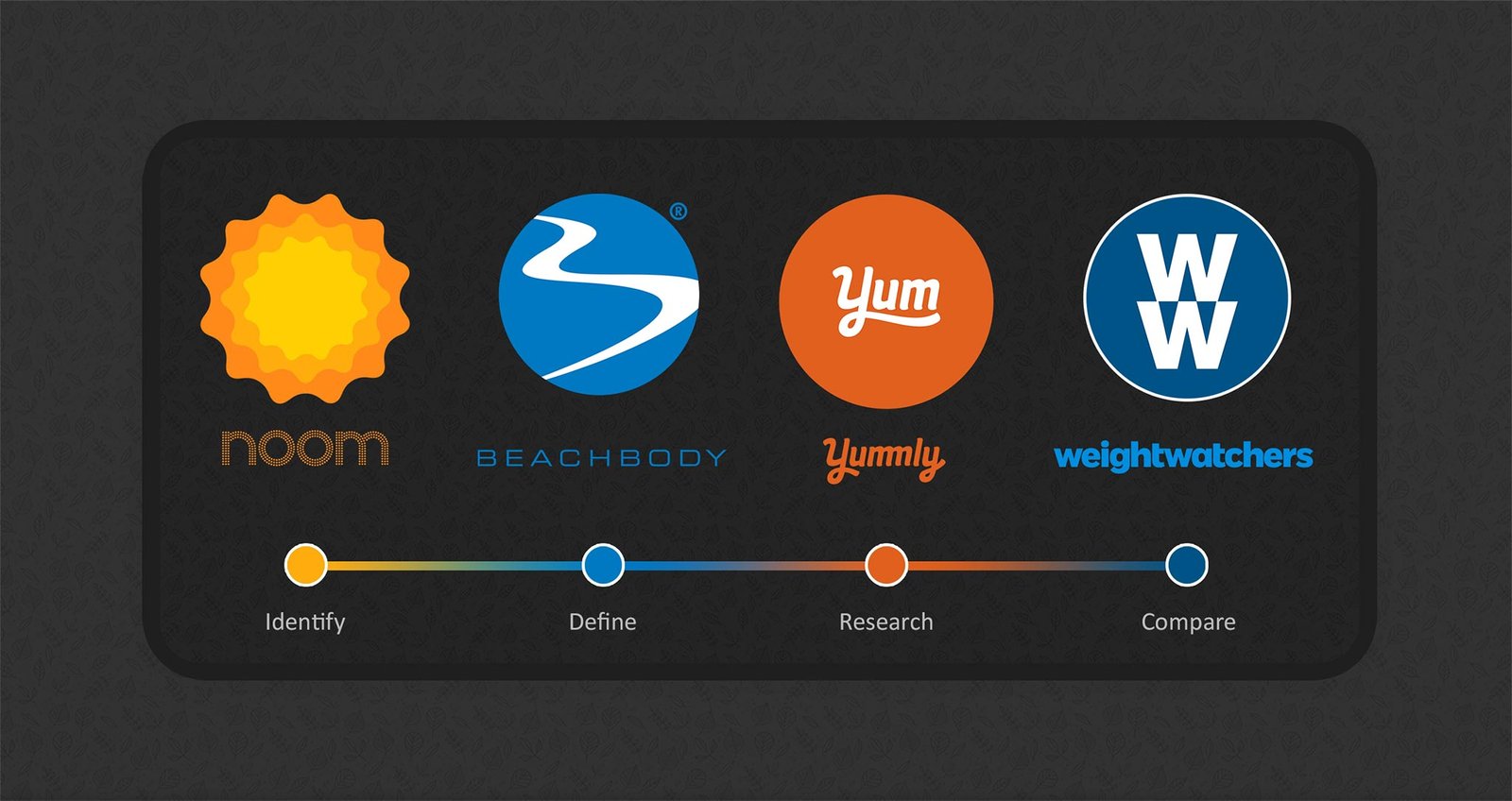 C&C Analysis

As you can see here we have listed a few key features that we feel Everything Food might want to consider adding, in order to reflect the industry standard trends, which include a support group, rewards for doing well, being able to track your food daily, and a mobile app so people can use your services on the go.
Once we had the list of YMCA's programs compiled, we've moved on to compare and analyze them against other non-profit & volunteering organizations through the methods of C&C Analysis. We were pleasantly surprised to find how well the YMCA stacked up against the competition, with the only service not being offered was a computer lab, where the boys and girls club seems to be their closest competitor when it came to features, having all except for group exercise.
Learning About Our Users

We've carefully tailored our interview questions and objectives and were able to interview 11 users - both male and female, varying from ages of 25-60 years old. The goal of these interviews were to discover motivations the users had to start a diet plan, what a successful plan looked like for them, and what users wanted to get from the plan. We also wanted to gain insights into how people found out about their plans, if the cost met with the value of the plan, and what their expectations were before trying out the plan.
Finding The Common Similarities

To further elevate our research, we've started analyzing and synthesizing data from user interviews and looked for common similarities through methods such as affinity mapping and we're able to pull out some of the key insights.

✔ We found that users wanted a way to customize their plans based on their food preferences and dietary restrictions
✔ Users also wanted to see recipes that aligned with their custom food preferences.
✔ Many wanted to be able to establish a social connection with an online community who are involved in similar nutrition plans or have similar diet preferences.
✔ Being able to track their progress in their current plans was something that users really liked
✔ Many enjoyed the gamification that their plans had included, such as badges or streaks, for achieving something good. This helped them feel motivated and stay on track with their goals
Meet Our Personas

It is difficult to visualize each of our interview participants' life stories as a whole. All of them are very unique and filled with lots of information. In order to capture similar patterns and characteristics, we needed to create a fictional characters, who will function as our combined target audience.
Because we interviewed such a wide age range of participants, we discovered that there were two types of users - someone new to a diet plan and a veteran user, which led to the creation of our two personas Matt & Casey.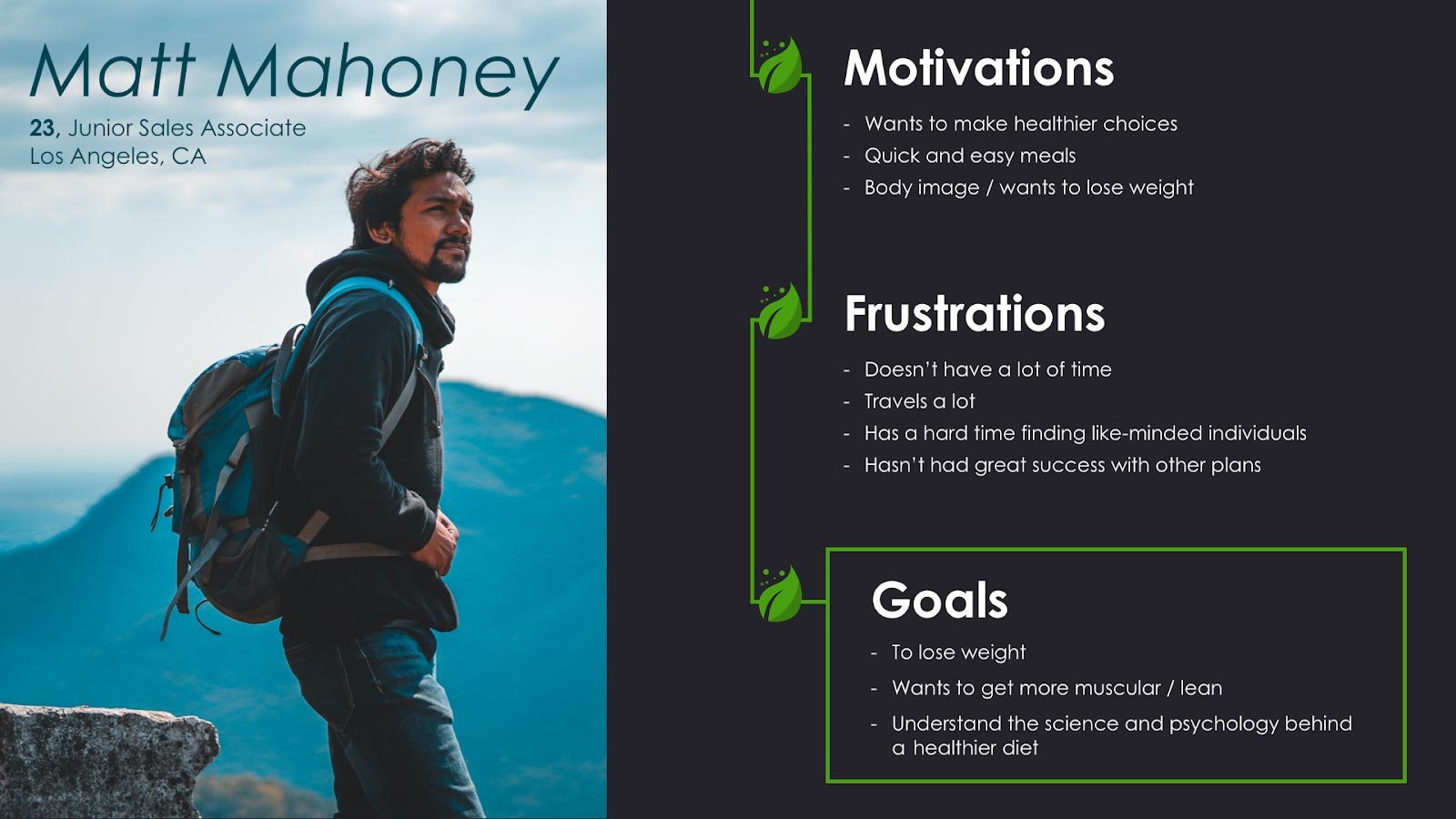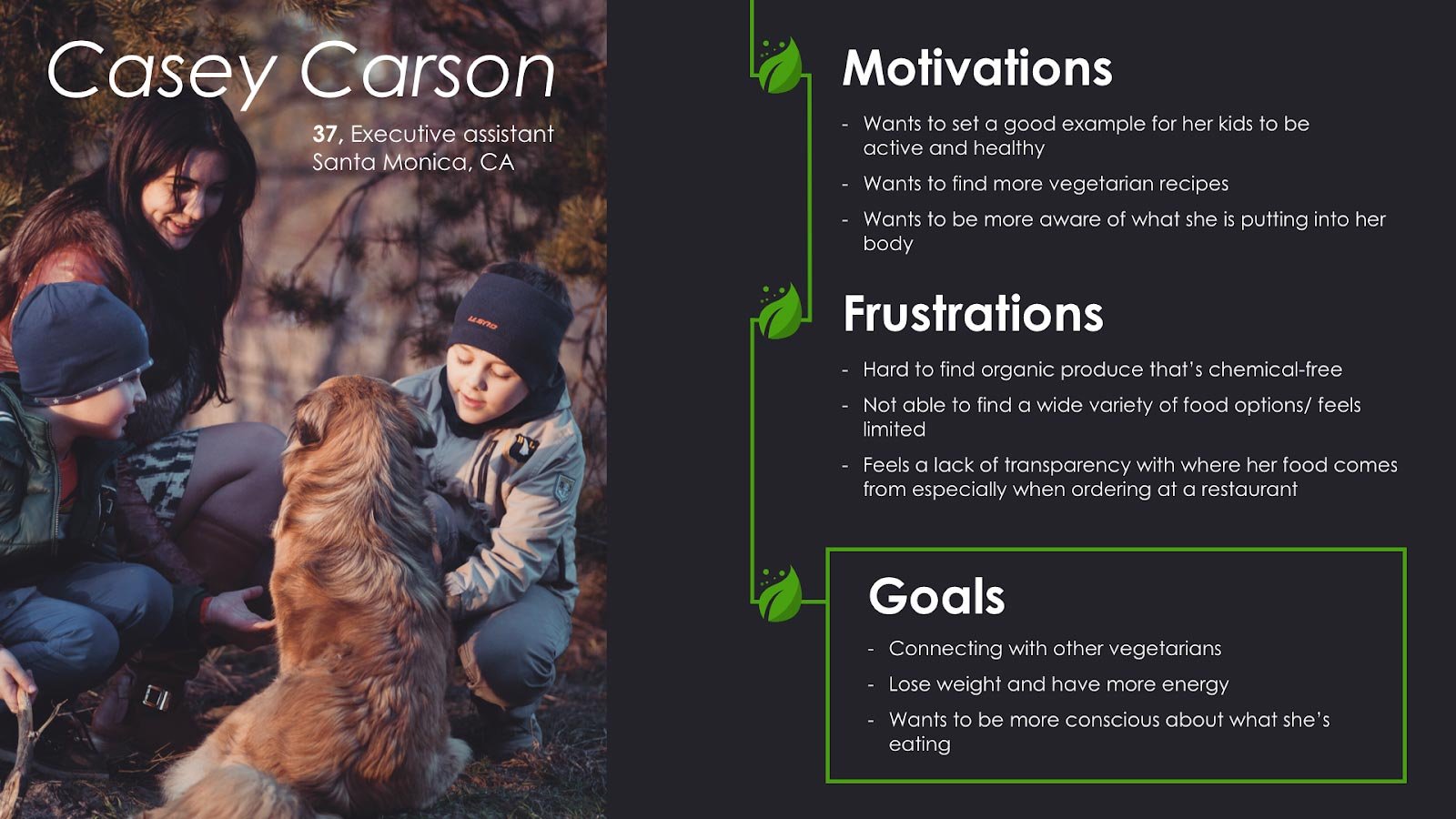 What's the Problem & How Can We Help?

Matt and Casey need a platform that would help them form better eating habits, because plans they've tried in the past failed at helping them achieve their goals and desired results

Creating The Experience

Before we could jump into design, we wanted to consider what the flow would look like for both a new user (Matt) and a returning user (Casey).We were able to predict all of the steps that the user would need in order to complete a task with the help of a functional prototype.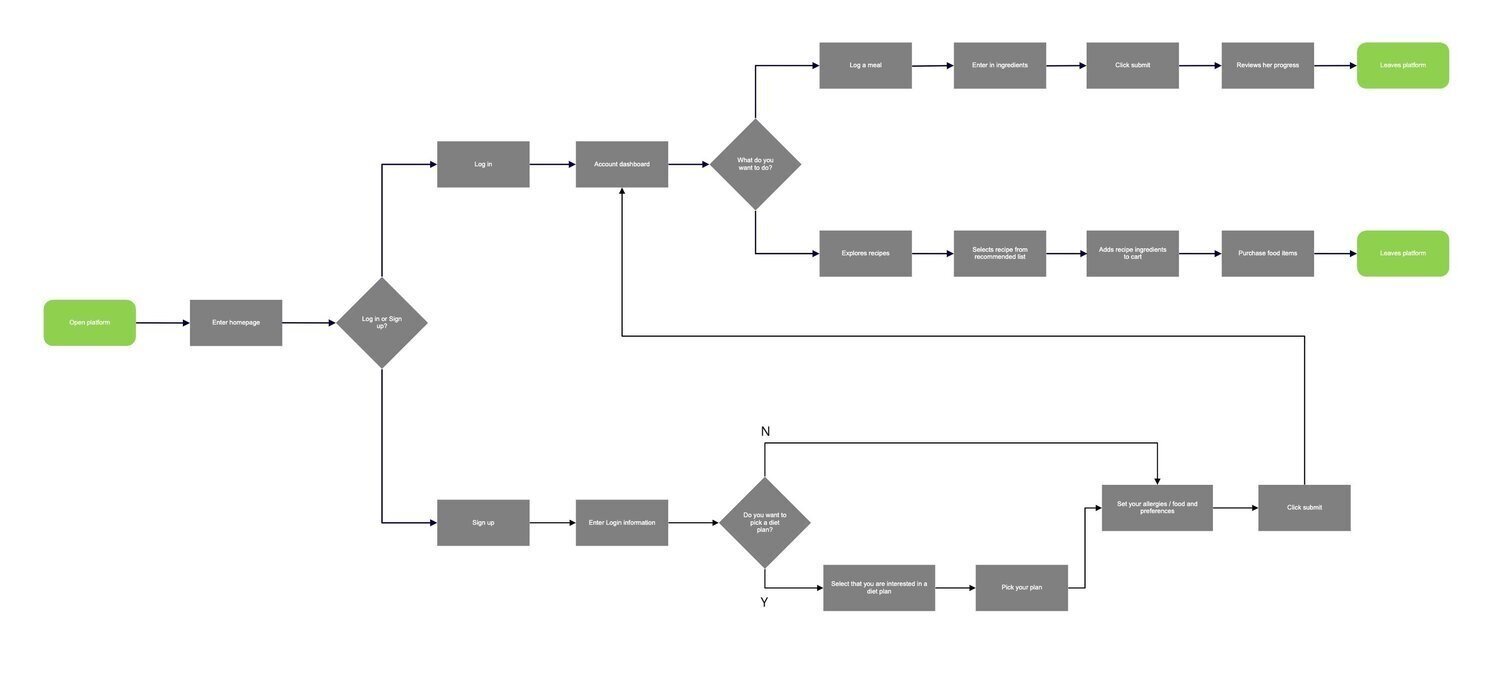 Usability Testings

We used these tests as a way to validate or invalidate our designs and found that all five users preferred the term nutrition plan versus diet or lifestyle. We also discovered that users didn't mind having the plans presented to them up front as part of the onboarding process. So for these next few slides were going to breakdown the updates we made between versions of our mid-fi prototype, starting with this onboarding screen.

✔ Tested five users
✔ Moderated setting over Zoom
✔ The term 'nutrition plan' was preferred
✔ Validated that users didn't mind plans being presented to them up during onboarding

One of the biggest challenges we faced with the onboarding process was articulating the value of these plans in a way that is scannable. In our first iteration, seen here on the left, users were skipping over this information up at the top. So to solve this problem, we broke down this information a bit to make it more digestible and you can see this in action on the right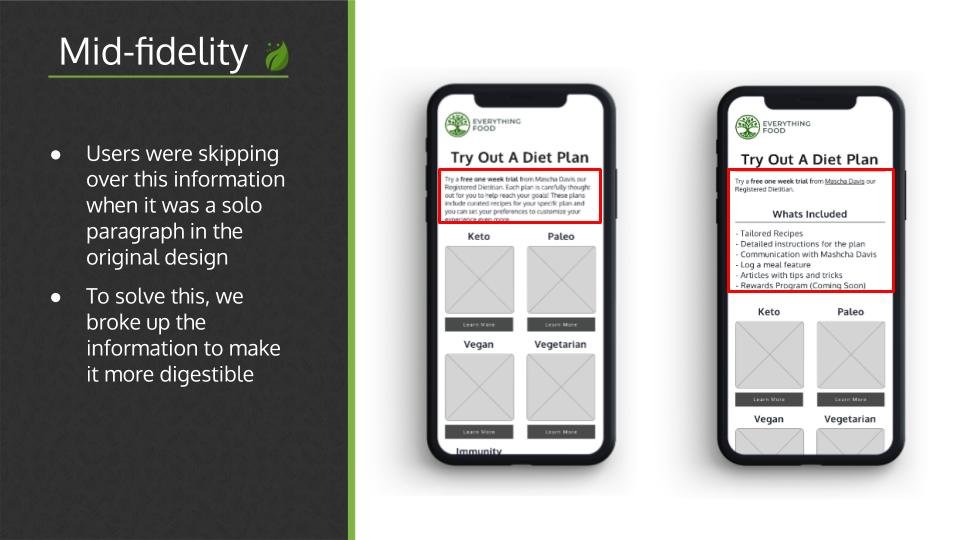 After completing the sign up, users were brought to the screen on the left and actually expected to see some indication that they were now on their personal account page. We solved this by simply adding a greeting along with the user's name at the top, which you can see on the right.
In the original design, we had a section called 'recipes for you'. Users found this confusing as they assumed the categories below would already be tailored to their plan. Since this was an unnecessary function, we removed it.
Users also noted that they wanted the 'recipes' and 'log a meal' buttons to be present on the dashboard and not in the 'more' section, so we reworked this navigation in our second mid-fi prototype, which is shown on the right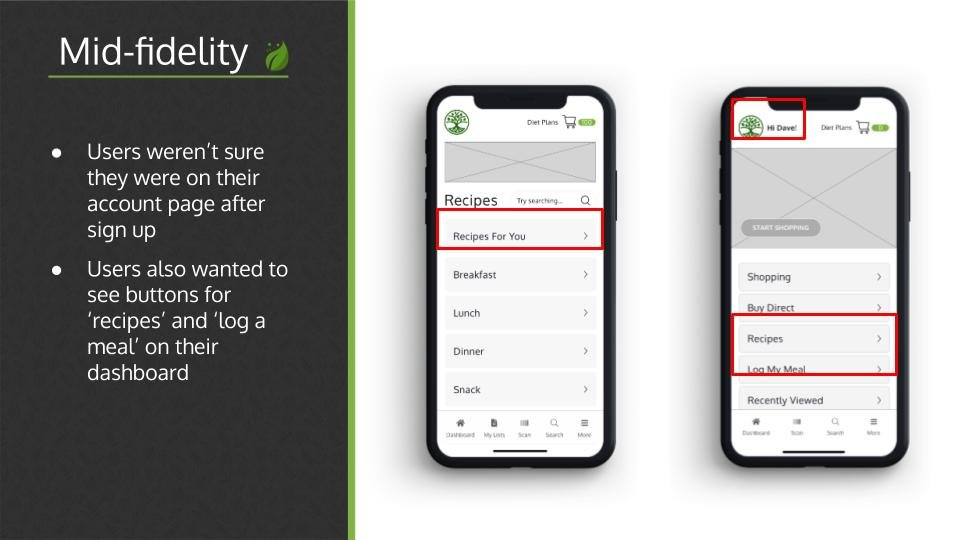 The icons used for the different meals shown on the left screen felt unnecessary to users and they actually preferred some kind of list so they could quickly see their entire day.
We referenced apps like MyFitnessPal to gather inspiration and insights into what set up is familiar to users when logging a meal and came up with a solution, seen here on the right, which combines what we already had - with industry standards
Before moving on to hi-fidelity, we conducted a second round of usability testing, using your testing tool you gave us access to, with five users in an un-moderated setting. These results allowed us to confirm that the new flow and updates were intuitive and easy to use.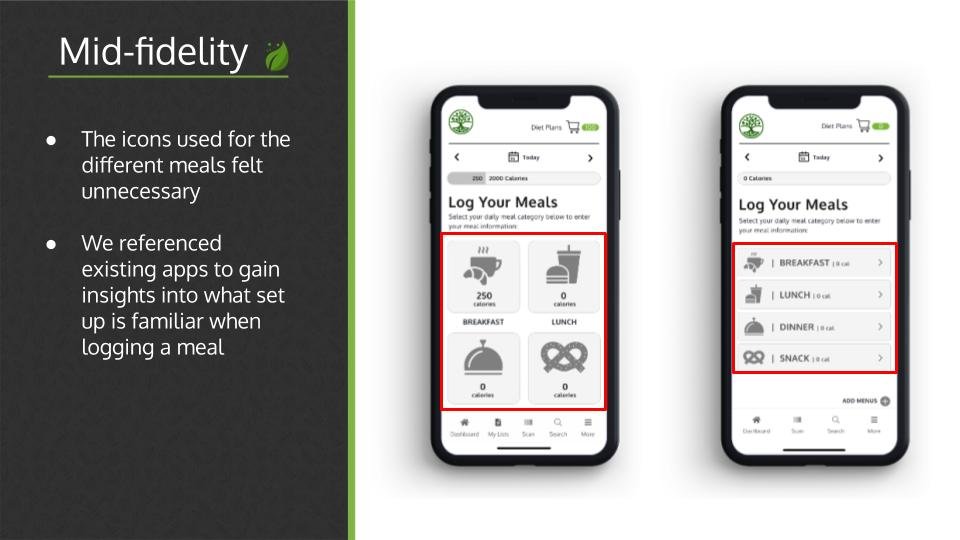 Interactive Ptototype

After numerous design iterations, we were finally able to put together a fully functioning prototype. Since there are some new features that we would like to include in the next version of our prototype, we will continue refining and improving the design and functionality in the next few weeks.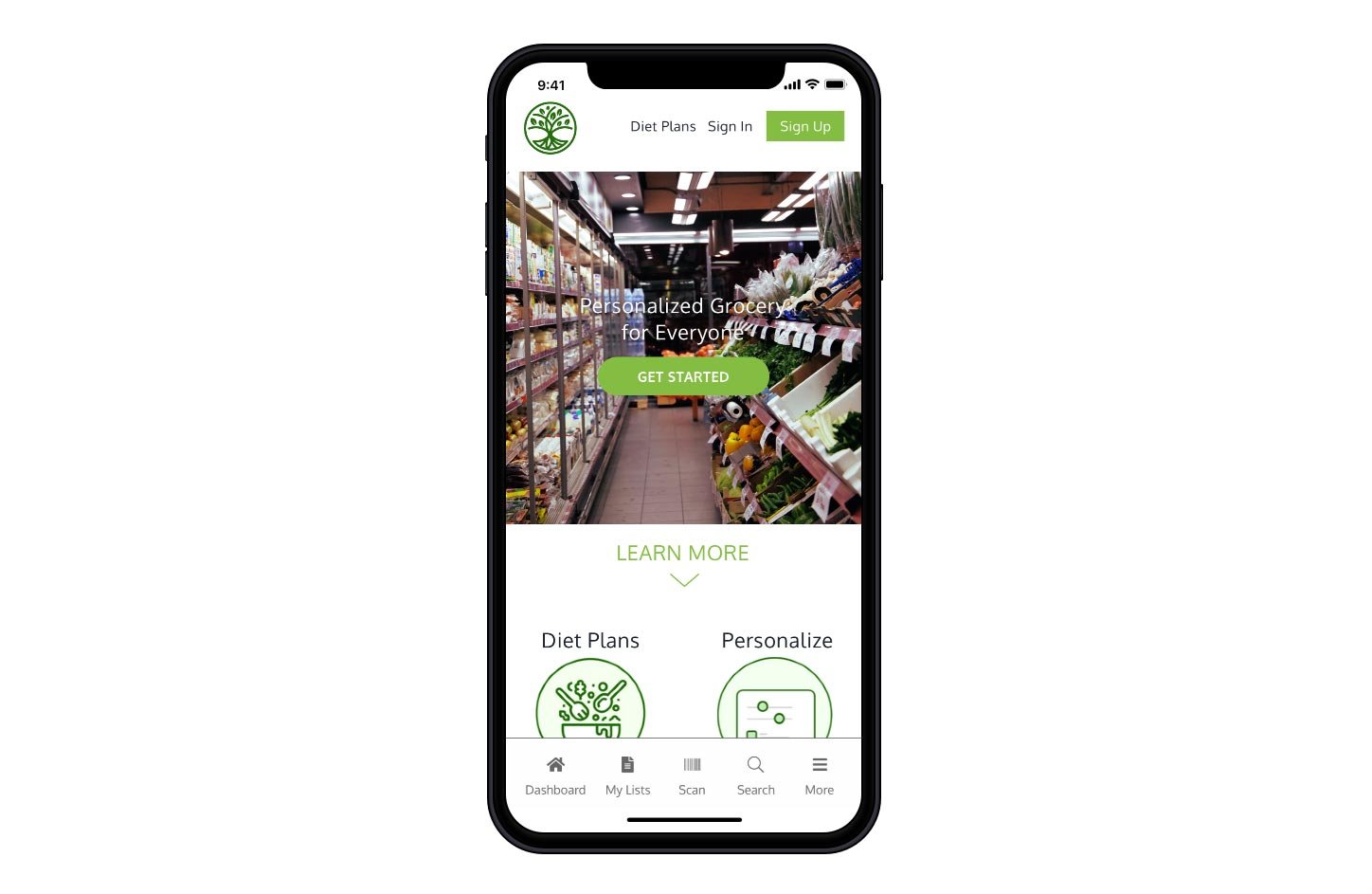 Next Steps
So with that we want to show you some next steps for features that we think are important for your team to consider moving forward.
❖ As we mentioned previously in the research section, we found through user interviews that having a support system was a crucial feature for a users' success of sticking to a plan.
❖ Because of this, we think it would be valuable for Everything Food to create this as an exclusive feature for your nutrition plans as it will help maintain customer retention and create a more positive experience for the user.
❖ Obviously there are some technical hurdles here that would need to be explored further in order to gauge the full scope of the project as we think users would ideally be paired with others doing the same plan that they are.
❖ We also imagine that a database would need to be created on the back end and connected for that to happen
❖ And just for reference we've included two screens from competitors, Weight watchers and Noom, to illustrate how this could look.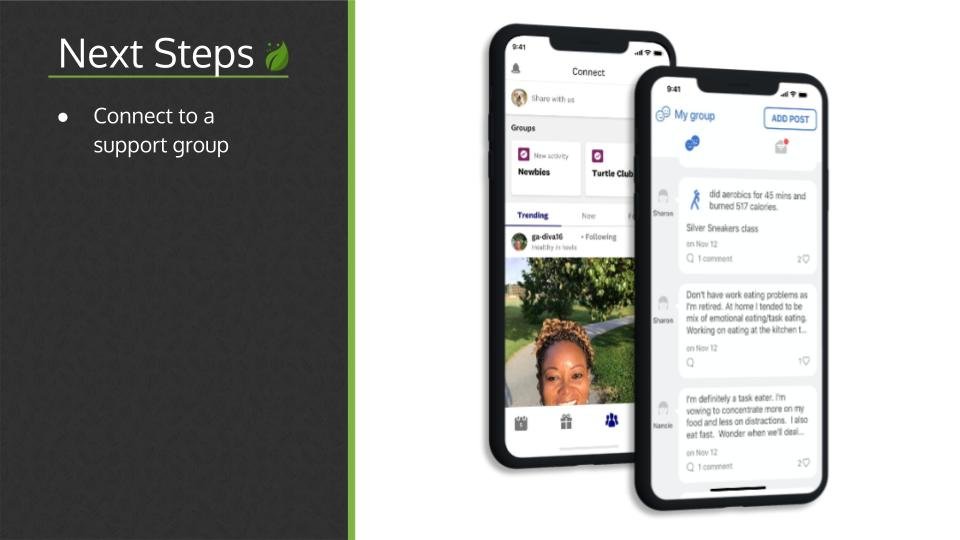 ❖ We also found through interviews, that tracking progress has been proven to be another valuable tool to a user's success.
❖ Because of this, we wanted to show you what we believe could be the start of some strong roots for Everything Food to gamify the nutrition plans and other services you offer
❖ The idea we had is to utilize the Everything Food logo - specifically the tree portion
❖ The leaves equate to points you could earn every time you log a meal, share a recipe on social media, or send a message to your support group.
❖ Over the course of a week for example, the tree would grow or gain leafs based on the number of leaf points the user earned, which they could turn in for a reward of your choosing.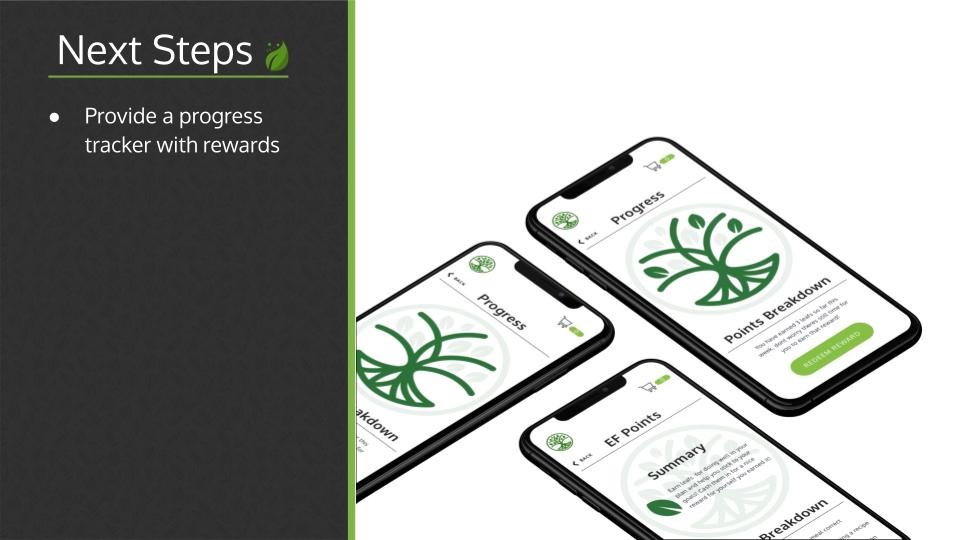 ---