UXDI | Case Study
Overview
YMCALA - is a non-profit organization dedicated to help, protect & strengthen the communities. By working side by side with neighbors and volunteers, the "Y" is giving its heart and soul, in order to make sure that everyone, regardless of age, income or background, has an equal opportunity to learn, grow and succeed.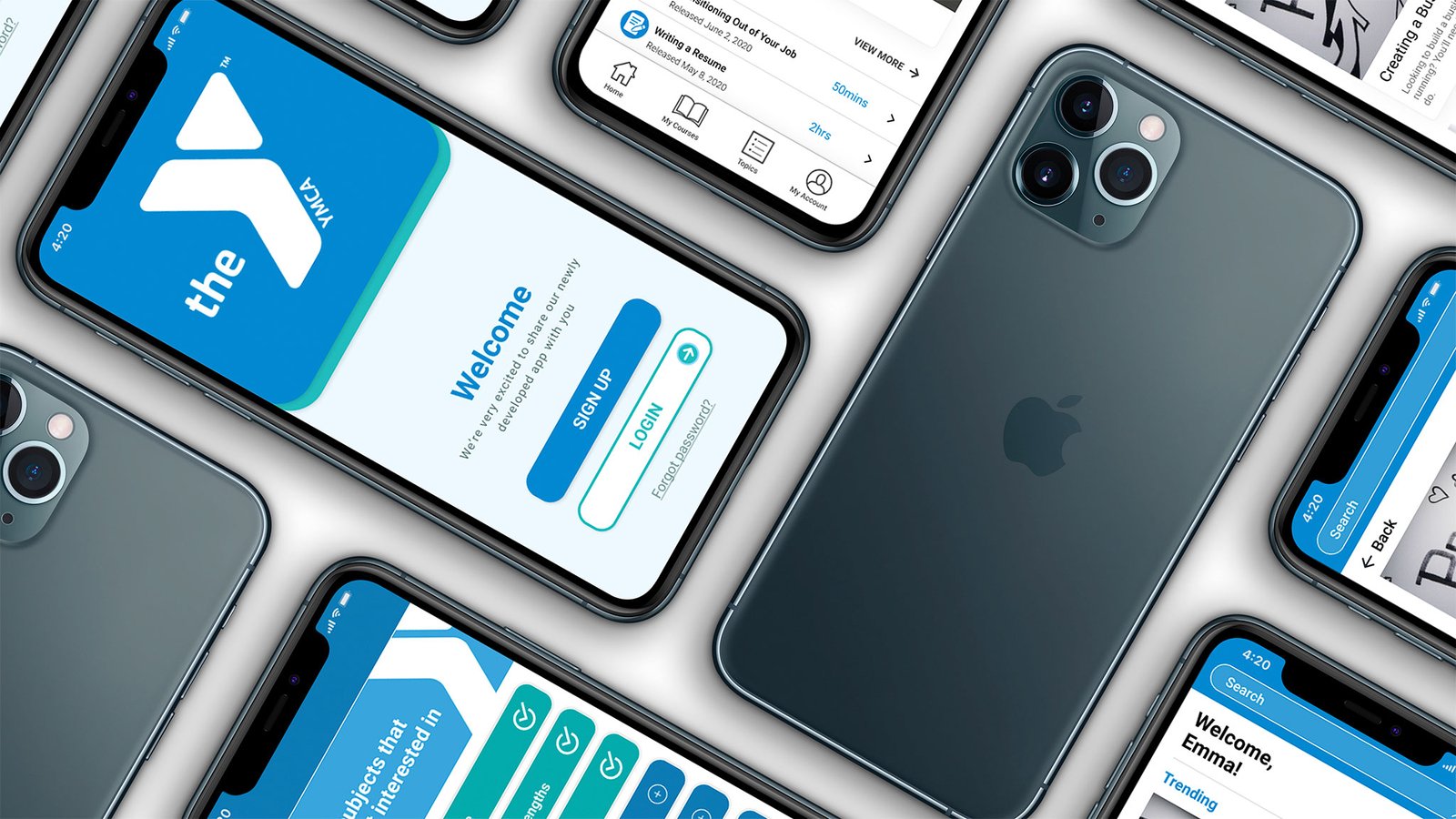 Client | YMCALA (Student Project)

Role | UX Designer

Platform | iPhone/IOS

Duration | 2 - Weeks Sprint

Tools | Figma, Sketch, Miro & Photoshop.

Team | Serge Pikhotskiy, Richard Cheng, Dalice Travillion

---
Defining The Problem
The Problem
As the middle class getting squeezed particularly hard by the rising costs of education, health care and housing, many young adults, especially in lower income communities are starting to struggle to find an affordable & quality education.

What's particularly upsetting, is that in many low income areas, many young adults don't even have access to an internet or own a computer, which could dramatically limit the learning options.
The Objective
To help improve this situation, we needed to find a way to motivate and empower young adults to engage in online learning and to generate more interest to learn tangible life skills and continue pursuing their educations.

After conducting a preliminary research, my team and I were able to establish that 96% of young adults in low income communities, ages 18-29 owned a smartphone. With these facts in our hands, we've established a clear vision on how we could help YMCALA to create a Minimum Viable Product that would engage and allow young adults to learn relative life skills at the comfort of their smartphones.
Exploring The Competition

In order to find any potential areas or services that we may want to expand or include in our mobile app, we needed to analyze YMCA's current area of development programs and conduct a comprehensive analysis of its current range of regular and young adult programs.
Once we had the list of YMCA's programs compiled, we've moved on to compare and analyze them against other non-profit & volunteering organizations through the methods of C&C Analysis. We were pleasantly surprised to find how well the YMCA stacked up against the competition, with the only service not being offered was a computer lab, where the boys and girls club seems to be their closest competitor when it came to features, having all except for group exercise.
Learning About Our Users

Conducting user interviews is probably one of the most exciting and interesting part of the UX process. You just never know what new information you may find. So after drafting our interview objectives and conducting screen surveys, we were able to locate and evaluate our interview participants. Our goal was to find active students and young adults in low income communities ranging between 18-29 years of age.
After conducting our interviews. I was surprised to find that most students actually prefered the online education, but were discouraged by lack of classroom & teacher engagements.
1. Individuals prefered online classes because of the flexibility and convenience.

2. Many of those who do not prefer online classes described the lack of classroom and teacher engagement as the main reason for their prefered choice.

3. Those who have taken online courses before, stated that they prefer live classes and learning through videos as it's easier for them to follow and stay more engaged.
Finding The Common Similarities
To further elevate our research, we took key insights from our user interviews and through methods of affinity mapping, we were able to analyze & synthesize the data that helped us find common trends between all of our users. We were able to find patterns, organize ideas and visualize the data that would be critical in developing the next steps of the process.

Meet Our Persona

It is difficult to visualize each of our interview participants' life stories as a whole. All of them are very unique and filled with lots of information. In order to capture similar patterns and characteristics, we needed to create a fictional character, who will function as our combined target audience.
In this current scenario, we created Emma. She is a busy, young working professional interested in learning new subjects that would help her grow and develop in her current career. However, Emma has to tackle a lot of challenges in her daily life, and finding a flexible way to study on the go and through the comfort of her smartphone us another one.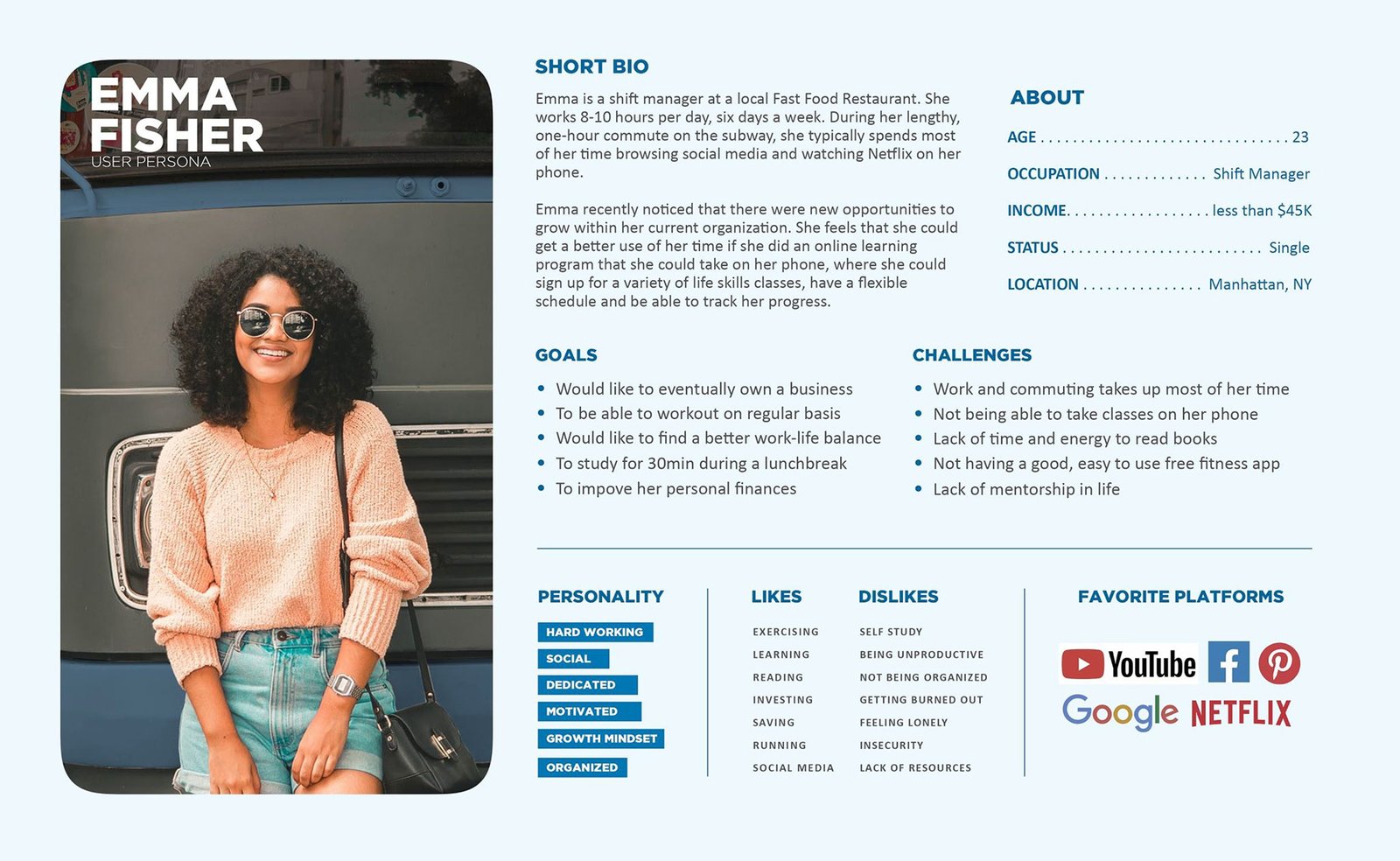 How can we help?

Now that we had a clear understanding of Emma's needs and frustrations, it was time for our team to find out what exactly the problem was and how should we solve it?

Creating The Experience

Before designing our interactive app, we needed to understand and visualize all of the steps that our users will take while using our app. By creating a user flow, we were able to predict all of the steps that the user would need in order to have a functional prototype.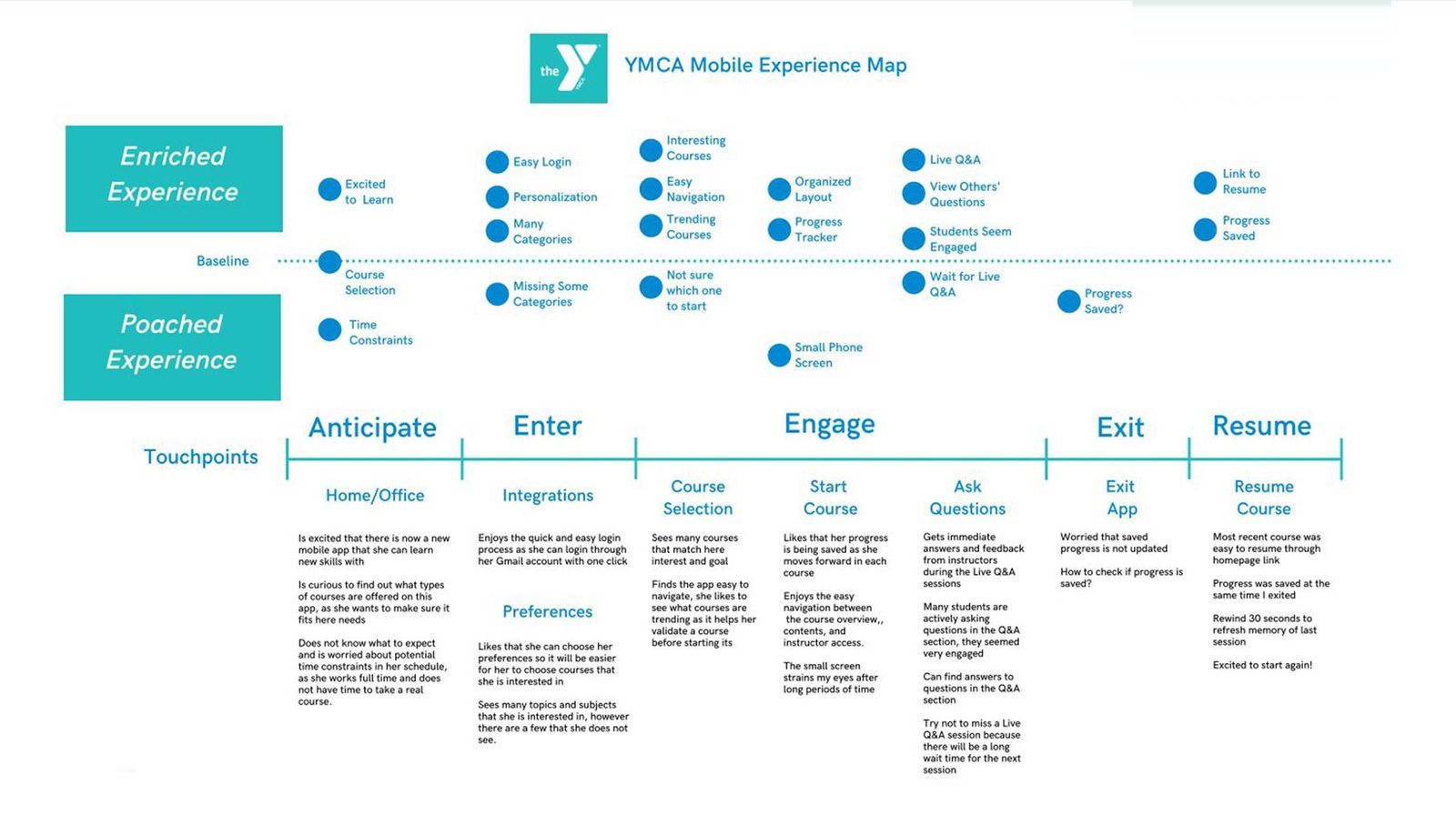 Sketch, Design and Redesign

So that's where the fun part begins! Our team started working on creating sketch after sketch of potential design solutions to our users problems.

With this method we were able to narrow down to few most important design components, such as an easy to use step-by-step onboarding process, being able to quickly resume your previous lesson, or reach out and ask the instructor for information.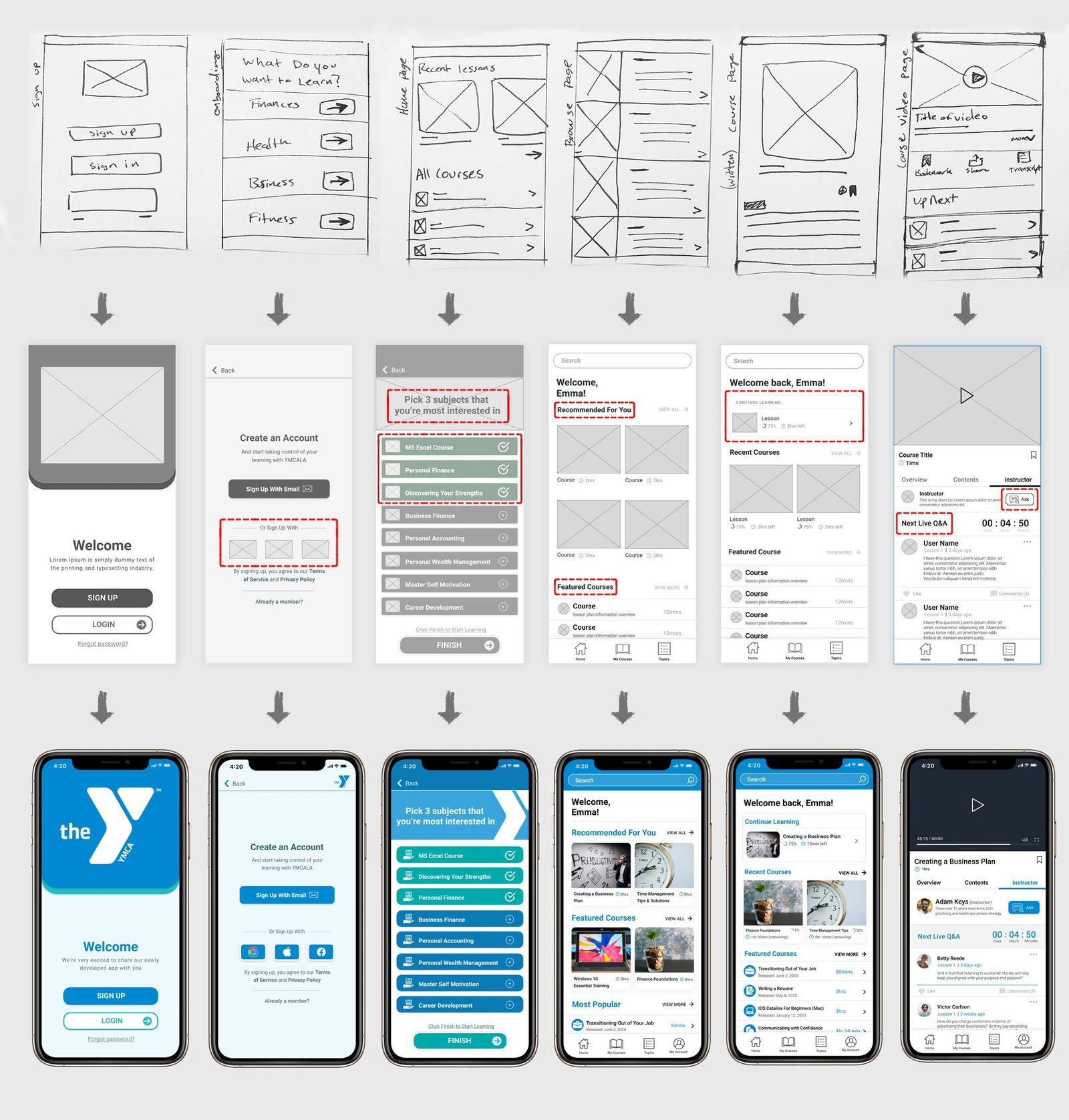 Usability Testings

This might seem intuitive, but it was a breakthrough to find so many simple mistakes with our Mid-Fidelity prototype. We've conducted 4 usability testings with unique participants. We've guided and observed our users to complete a few simple tasks while using our app. Luckily, we were able to record 4 important findings and update them before starting to work on our final prototype.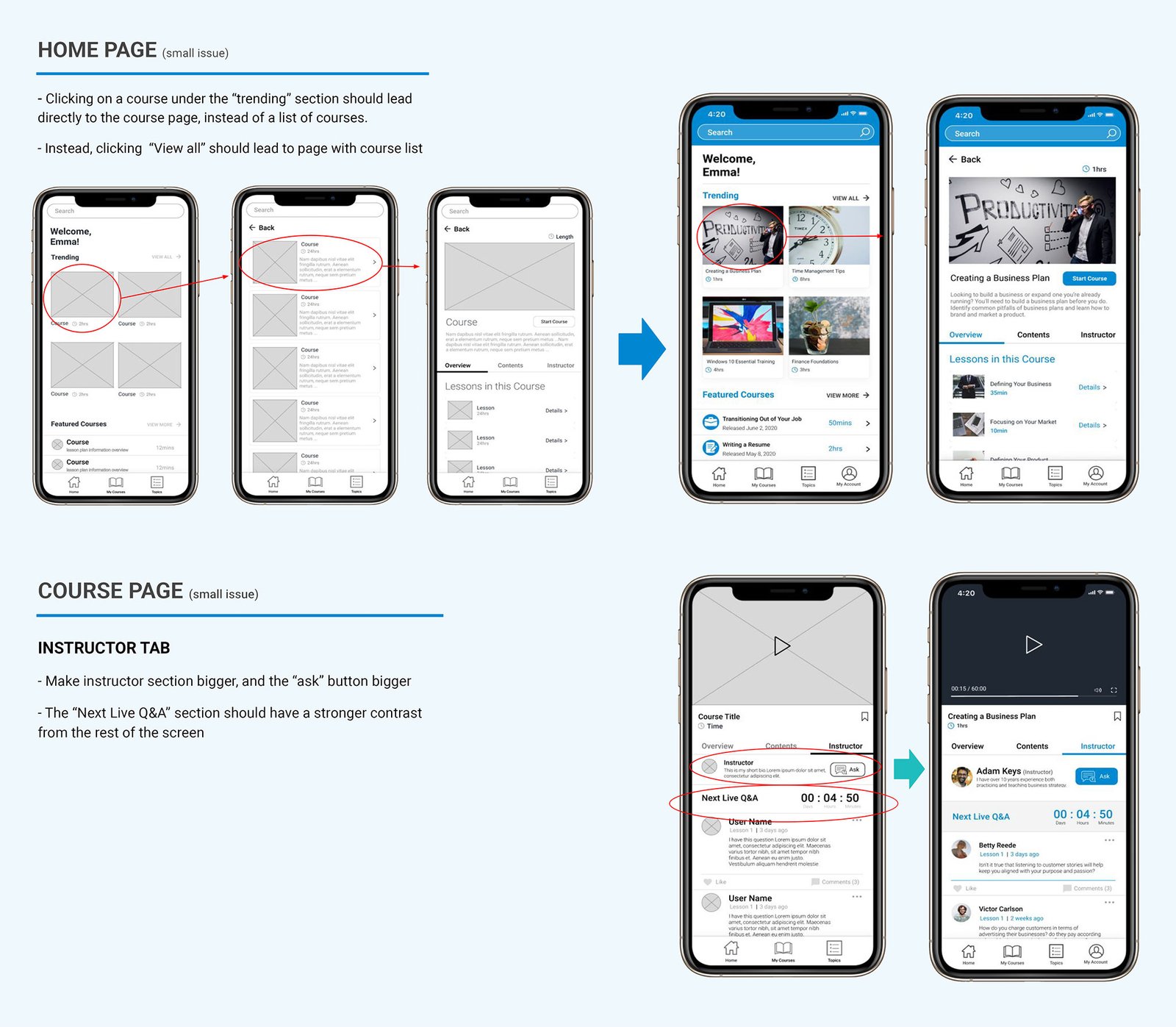 Interactive Ptototype

After numerous design iterations, we were finally able to put together a fully functioning prototype. Since there are some new features that we would like to include in the next version of our prototype, we will continue refining and improving the design and functionality in the next few weeks.



Next Steps

❖ Create an interactive map that would allow the user to look up the locations where they could find computer labs and be able to use printing services.
❖ Develop in App "Notes" application. Where users could take the notes, write essays and be able to print document format when needed.
❖ Continue working on improving and iterating the design.
---