Top
October 08, 2013/Uncategorized/0 Comments
---
ITINERARY:
---
SUMMARY:
We took a flight from PHL to LAX and rented a car as it was the cheapest and most convenient option for us. We spent a night at one of the cheaper hotels on the outskirts of the Las Vegas hotel strip. The following morning it took us 2.5 hours from Las Vegas to reach Zion National Park. On the way, we stopped for some breakfast and a grocery store to get any last minute supplies (we broughed our own dry freeze meals from Philly).
---
---
PHOTOGRAPHY:
---
Parks Reservations
a few months in advance to obtain a camping permit. They do hold a few permits for first come first serve campers but you need to be at the Visitor's Center first thing in the morning. We were able to make our reservation for West Rim Trail ahead of time, so as soon as we arrived to the park, we headed over to the Visitor's Center to pick up our permits.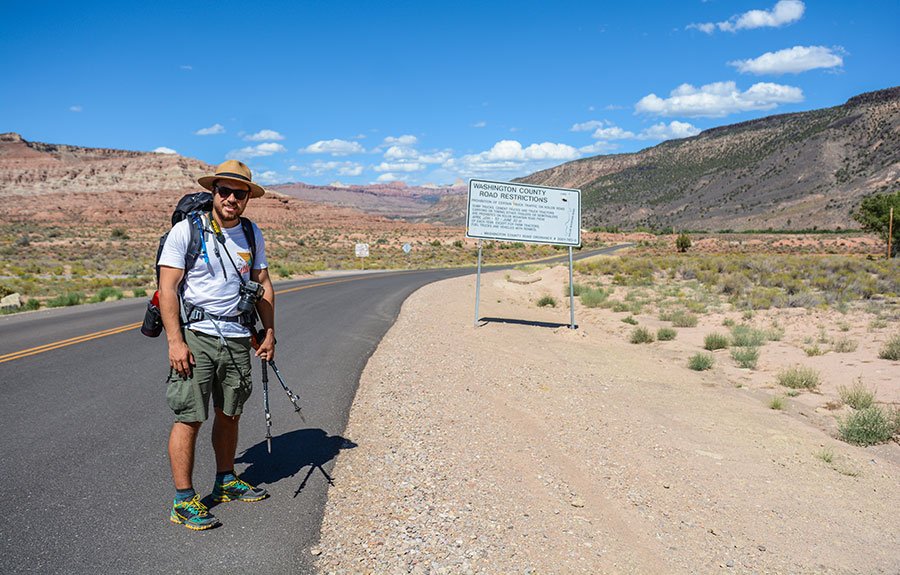 ---
West Rim Trail is 14.2mi one way. We decided to leave our car rental at the park's entrance and hitch a ride to the Lava Point trailhead. One of the locals stopped and offered us a ride for the next 10 miles to the intersection of RT 9 & Kolob Terrace Road.
Once we got dropped off at the intersection, we hiked for additional 50 minutes along the Kolob Terrace Road, until one of Zion's local rangers kindly offered us a ride for the next 18 miles. We got off near the Lava Point, which is less then a mile away from the West Rim trailhead. Soon after, we started our hike! The trail is very distinct and very well marked.
---
After about two hours of hiking, we've reached our reserved campsite #8. Make sure to bring extra water as there are only a few seasonal water sources on the trail (check for water status with permit office at the Visitor's Center before heading out). The first water source that was available for us was near campsite #1.
---
Shortly after unpacking our bags, I realized that instead of bringing the actual tent, I brought only a rain fly. Ilya was especially thrilled about it, thinking that a snake or a spider will crawl inside of his sleeping bag at night. Luckily for us, it was a beautiful night and we did not encounter any animals besides a deer who was skeptically wondering around us all night.
After we cooked some dinner, the milkyway started to appear in the crystal clear night sky. Nothing feels as healing as sleeping under the open skies. Temperatures at certain parts of Zion can fluctuate by quite a few degrees, so be prepared to bring warm clothing for the night, or it's best to carry a sleeping bag with temperatures rating of 30F (0C)
---
We woke up an hour before the sunrise, packed up our stuff and continued on the trail. Our plan was to get to the top of the ridge to capture the morning's first sunlight.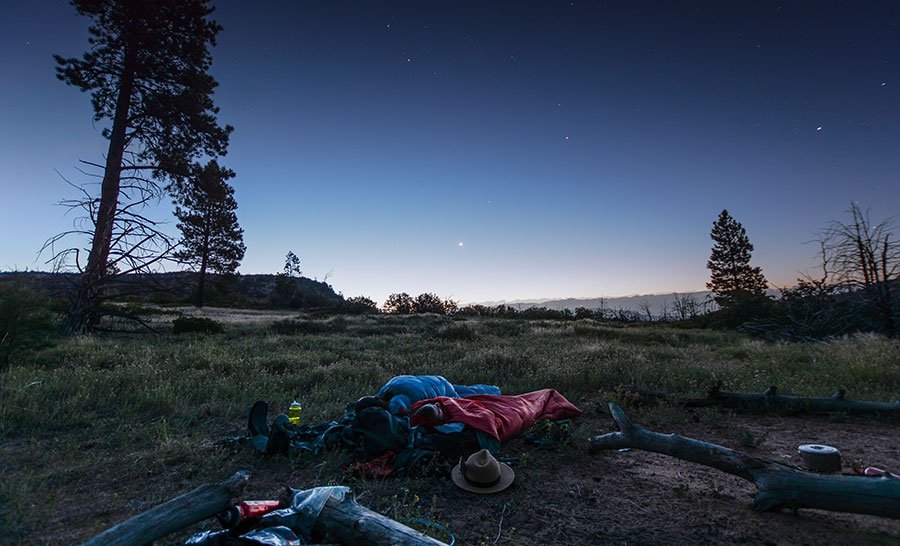 ---
Soon enough, we found a perfect spot to take some photos and eat our breakfast. The air was full of moisture, and the sun filled the valley with magic colors.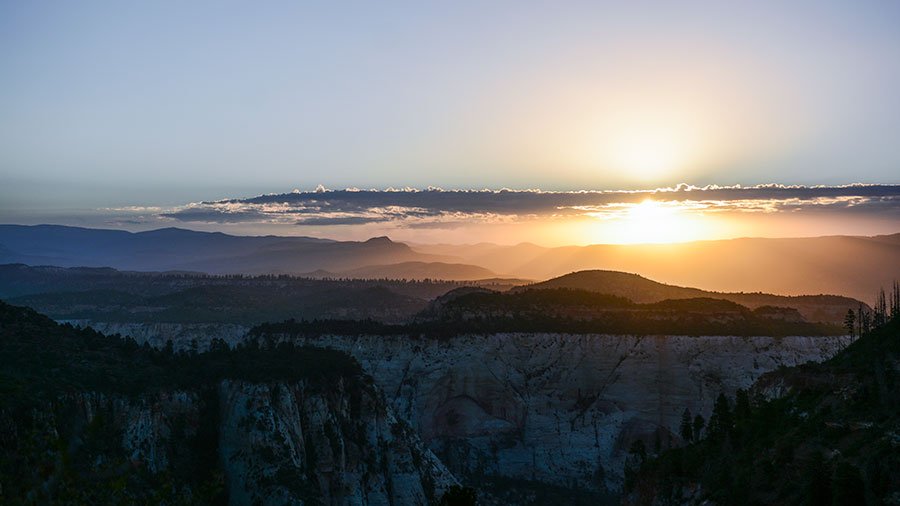 ---
We found West Rim Trail to be fairly easy and very enjoyable, without much of elevation fluctuation. You can do this hike in 1 day, just make sure to have a head start early in the morning. After you pass the Cabin Springs (one fo the water sources), the trail takes a sharp turn into a downhill canyon, zigzagging through the side of the stone walls down to the bottom of a narrow canyon. After moderate 30-45 minutes incline, we've reached the beginning of a very popular hike "Angels Landing".
You have a choice to continue down the trail into the canyon, or do the famous Angels Landing hike which will take about 1 hour round trip. This is considered one of the most dangeorus hikes in U.S. There are chains mounted along the wall, to help you manage your balance and fear of heights. It's a short but awesome hike. The only downside of it, it is extremely overcrowded. I believe the park should start issuing permits to limit the amount of people visiting this area all at once.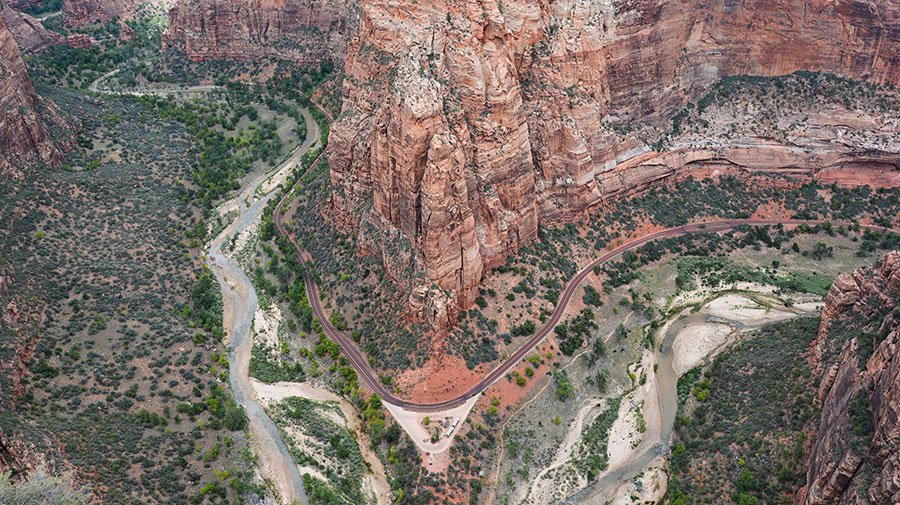 ---
After returning from Angel's Landing, we continued on our hike down to the bottom of the canyon up until the Grotto Shuttle Bus stop. Ten minutes later, the bus arrived and drove us back to the park entrance, where we previously left our car parked along the road.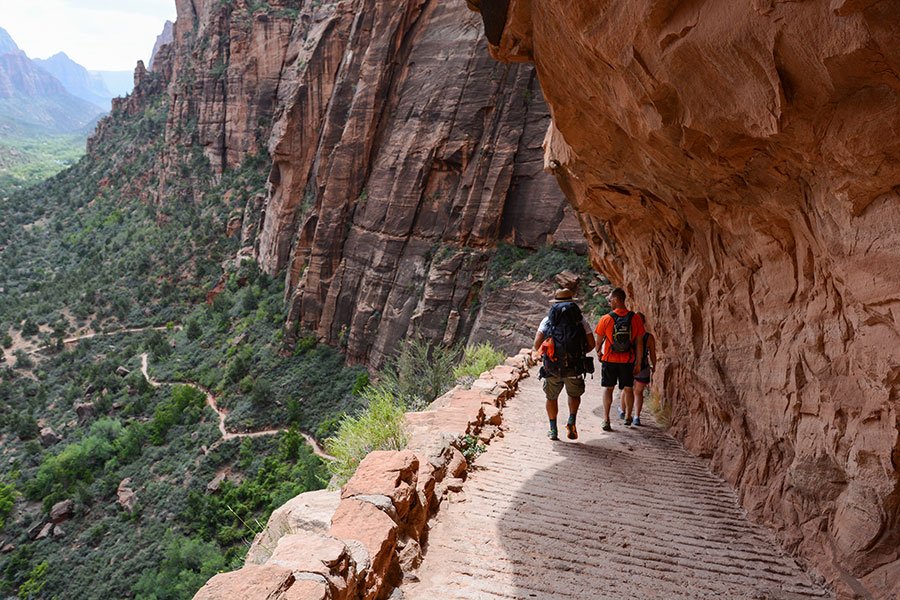 ---
We started the hike at Sunrise Point and followed it down along Queen's Garden Loop. The trail at the beginning felt a bit crowded with visitors, but as we continued deeper into the canyon, we only saw a handful of people.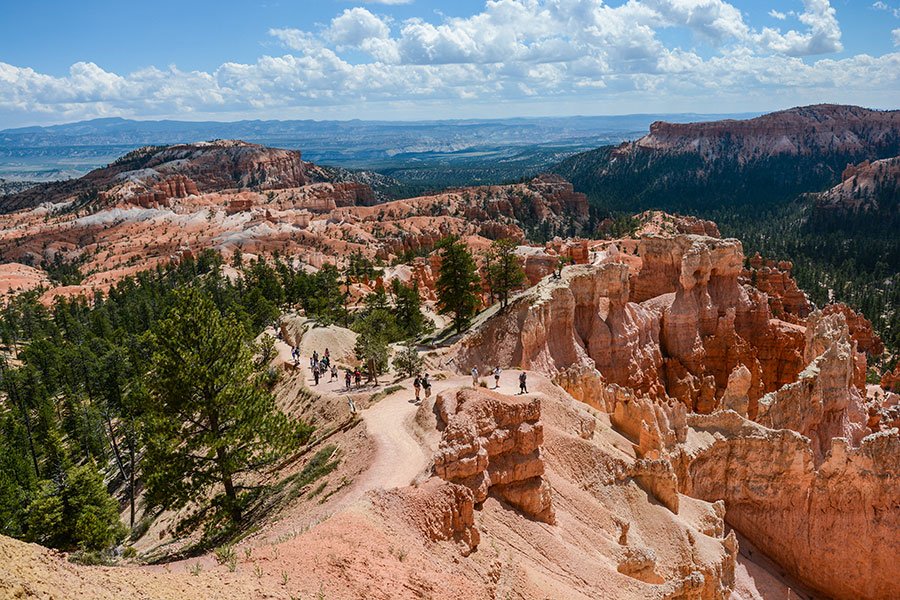 ---
Hiking in this park felt fairly easy. Trails are very well maintained and marked at the intersections. It would be very hard to get lost. Most of the time, you can look up at the west wall and see the Bryce, Sunset, and Sunrise points for access/exit locations.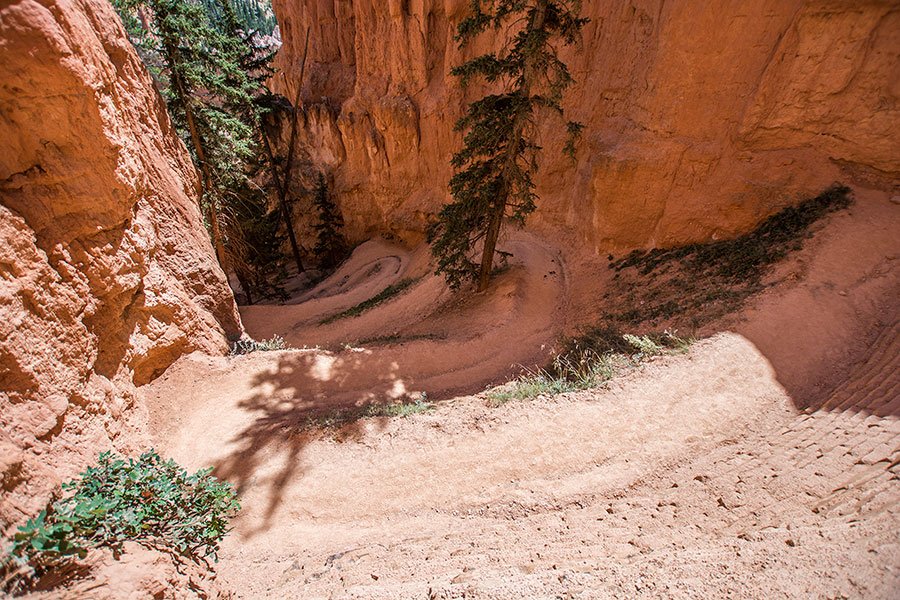 ---
After reaching the canyon's floor, you will continue for aproximately 1/2 mile until the intersection with Navajo Loop and an access point trail for Peekaboo Loop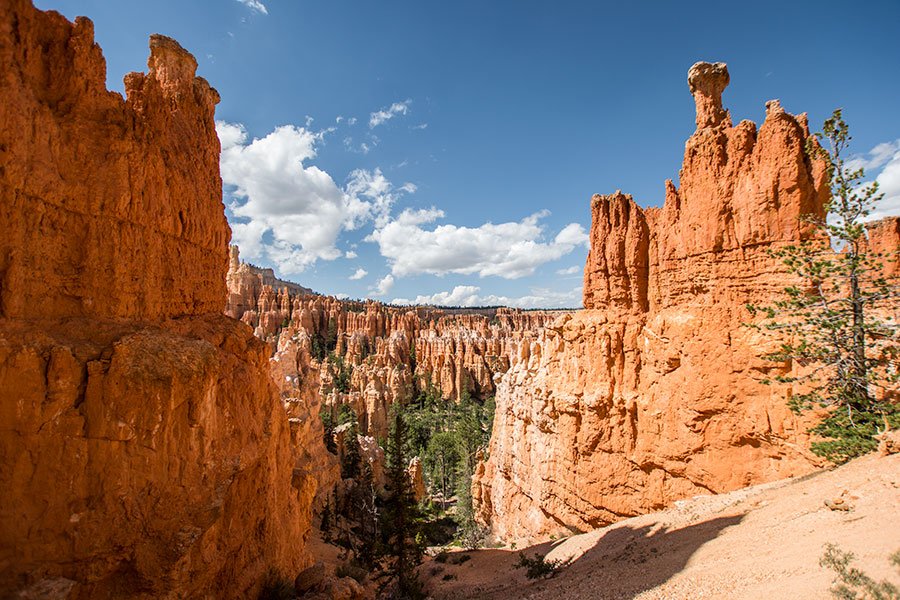 ---
You have a choice to do the half loop and come back to Sunrise Point, or continue to Peekaboo Connector Trail, which will take you to the top of Bryce Observation Point
After reaching the Bryce Point, we decided to continue along the Rim Trail to where our car was parked near Sunrise Point. After hiking for an hour and half, we've reached the parking lot around 6PM. On the way out from the park, we grabbed some of the worlds smallest and most expensive pizzas, and were ready to embark on our 8 hour ride to the Havasupai Indian Reservation on the Southern Rim of the Grand Canyon.
---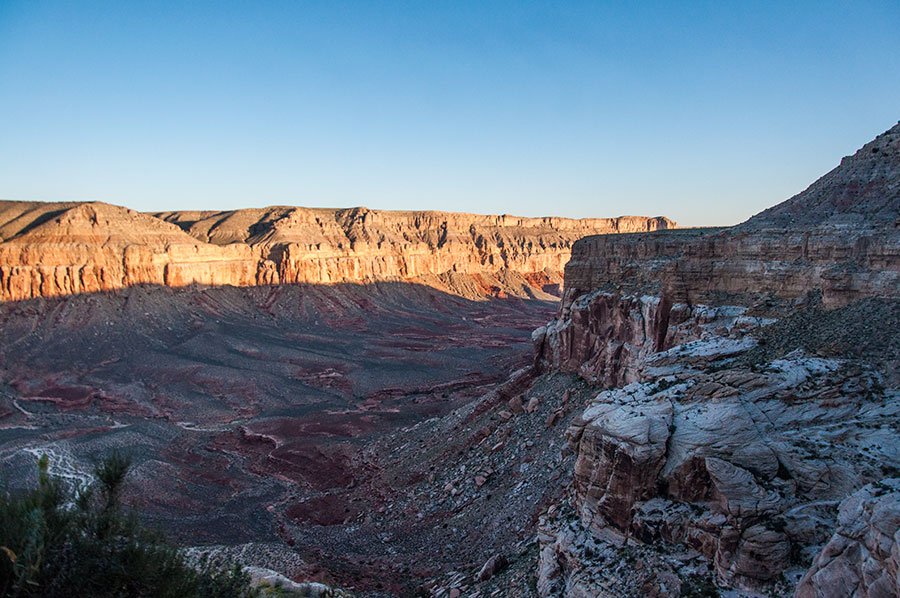 ---
Havasupai Indian Reservation discourage one day trips due to the strenuous rating of this hike. You must make overnight stay resrvations months in advance since they only have limited spots. It is an option to take a helicopter ride to and from the bottom of the falls for approximately $90/person one way (4-5min flight). We were not able to make an overnight resrvation in time (make sure you book early!). Since we arrived without any reservations, we decided to get on the trail before 6AM. I believe there is a guard at the trailhead who will check your reservation after 6AM and will provide you with a colored wrist band or a tag to attach to your bag. No guard was on duty at the early time of our start, so we hiked in and continued down to the open canyon floor, toward the Havasu Village.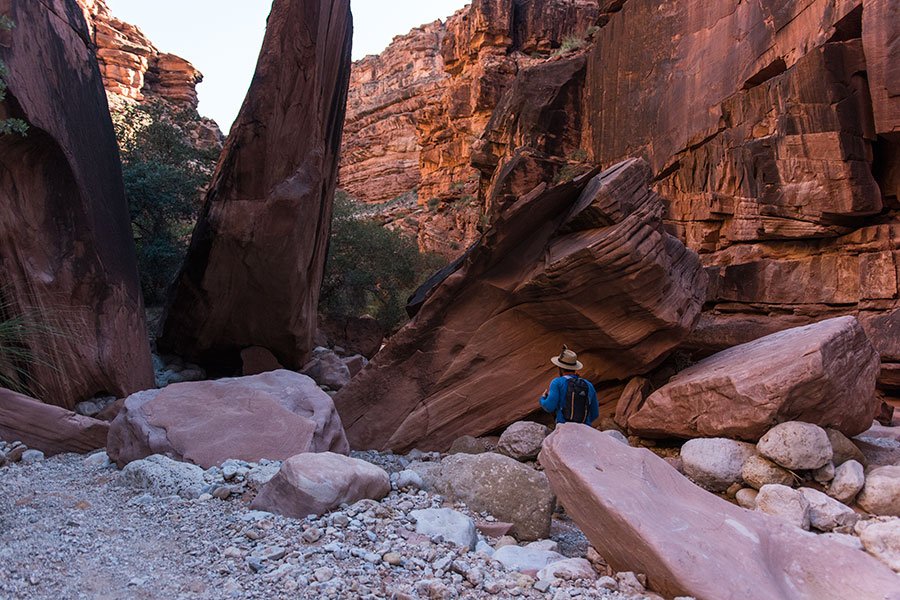 ---
As we were entering the town, the first thing we noticed, a tiny visitors center and an employee sitting outside. He asked us to show him our reservations. We played dumb and said that we are here only for a day hike. He wasn't very happy about it, but asked us to purchase a $28/person daily pass.
---
While passing through the village, we noticed a small grocery store, which is located pretty close to a helipad. After passing through the village, you will come upon two of the smaller waterfalls (Fifty foot falls & Navajo falls) until reaching the most famous Havasu Falls. You have an option to swim in the natural pool right under the Havasu Falls or continue down to Mooney Falls, which we found to be much more interesting.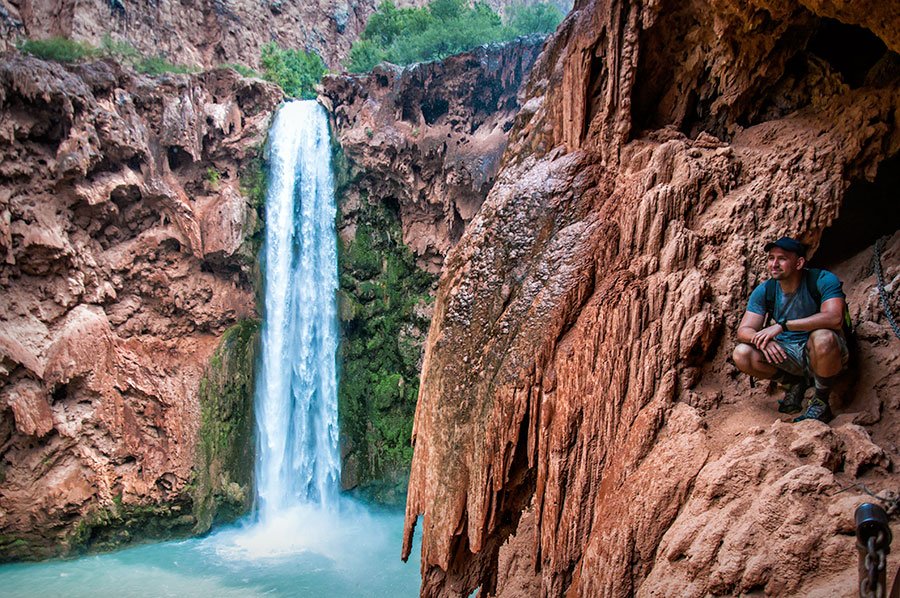 ---
In order to get to the bottom of the falls, you will have to squeeze through a narrow one way tunnel that can only fit one person at a time. This place was packed with visitors, so I'd say allow 30+ minutes to get up or down. It's a steep, slippery climb. You will see planty of folks moving extremely slow and pile up a huge traffic behind them. If you continue to follow along the Havasu Creek, you will reach a few other smaller waterfalls.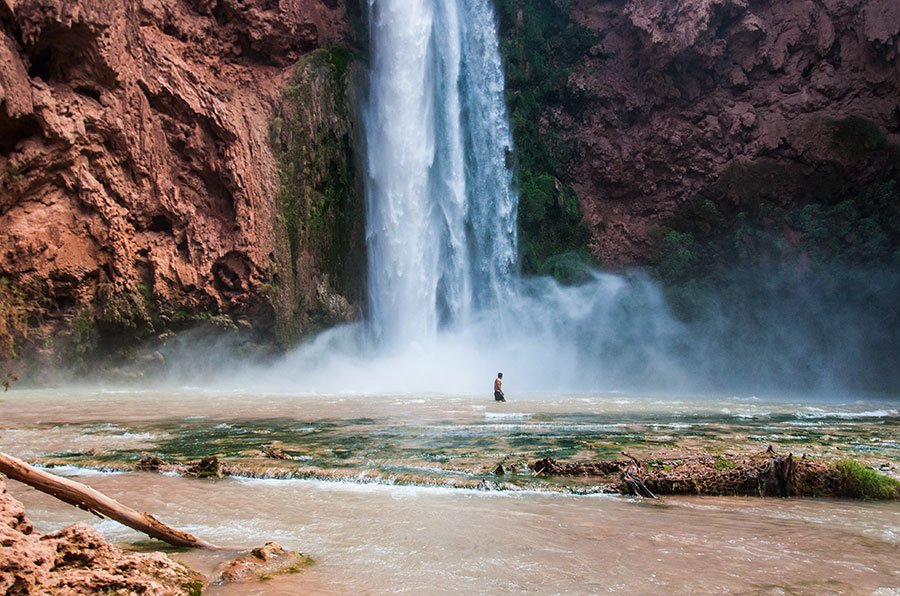 ---
Since we weren't staying overnight at the reservation, we had to hike out before the nightfall.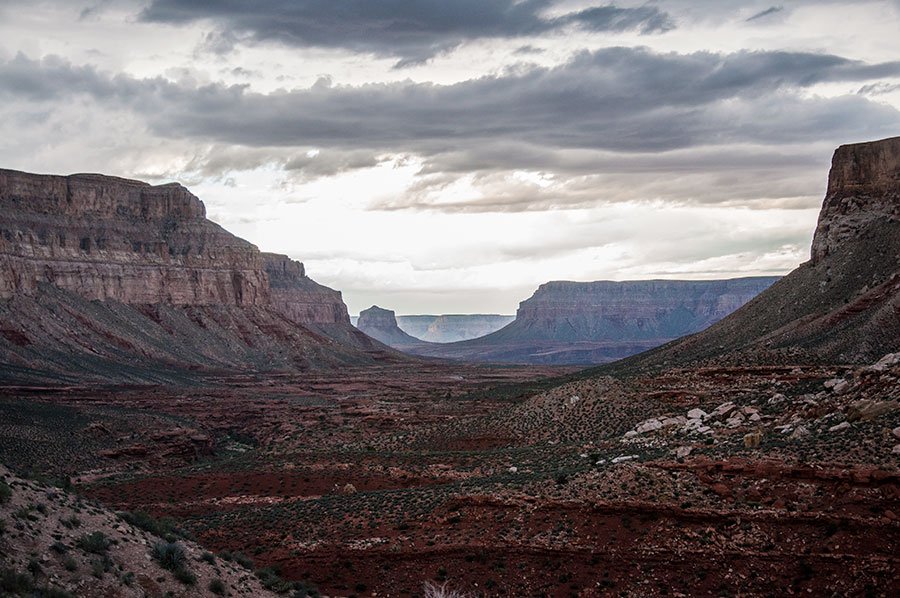 ---
It was a long day and a pretty exhausting hike. Considering that we only slept for 2-3 hours in our car the night before, we felt extremely tired upon reaching to the top of the parking lot. As we were watching the sunset, the storm was rolling in on the horizon, we felt energy in the air.
---
---